Accra
Know Ghana
in 4 Hours
Discover the vibrant heartbeat of Accra, the capital city of Ghana, in just four exhilarating hours with our captivating city tour package.
Get Started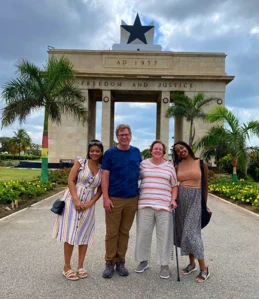 Black Star
Square
Accra
James
Town
Accra
01
Shai Hills/ Akosombo
Adventure Hiking
& Boat Cruise
Embark on a thrilling expedition into the heart of Ghana's natural wonders with our Adventure Hiking, Boat Cruise, and Safari tour package.
Get Started
Hiking &
Safari
Shai Hills
Boat
Cruise
Akosombo
02
Accra
Nightlife in
Ghana
Experience the vibrant and energetic nightlife of Accra with our captivating tour package.
Get Started
Soho
Bar
Accra
Soho
Bar
Accra
03
Travel with Kaya, the Leading Travel and Tour Provider in Africa
Kaya Tours is an award winning and licenced multidisciplinary client focused Travel and Tourism firm providing holistic tourism and travel experiences.
Winston Martin
2023-02-27
I experienced the tour of a lifetime with Kaya Tours. In-depth knowledge on the various heritage sites and the history behind them. The tour guide took extra care and making sure I enjoyed the tour to the fullest. I'm definitely embarking on my next tour with Kaya Tours Ghana!
mikeitakburkes
2022-10-27
Had a great experience with Ishmeal. When I say he was insightful, that is no joke. He taught us the rich culture and traditions of Ghana between our sights, as well as some common Ghanaian phrases. He went above and beyond a traditional tour experience. I would definitely recommend Kaya and Ishmeal to anyone looking to explore Ghana.
We did the city tour with Ishmael. We just loved how knowledgeable he was. You can tell he has pride in his country. Each stop it was a treat. He let me try food I have never heard of. His car was clean with AC. As busy as the roads are he can drive safe and navigate the roads. Lastly he was our personal photographer and our pics came out great Adding to my review* Shai Hills, Caves and Bout tour. We had such a great experience with Ishmael we booked another tour and we were glad we could use him. This adventure was outside of the city and just want we needed. The caves had beautiful views and wild animals it is something I'll never forget
Violet Letsoalo
2022-08-23
What a fantastic tour. I did a solo trip to Ghana and it was my 1st visit so I wasn't familiar with Accra. I booked the city tour with Ishmael and it was a great experience. There are set areas that you are meant to visit during the tour but when I told Ishmael about how sensitive I am to learning about how slaves were treated he slightly changed our route to accommodate me. Driving down the city centre he was kind enough to stop whenever I saw local fruits or drinks I wanted to try. I had a great day on this tour, not to mention the fact that he really knows his history. True value for money. I would recommend this tour for anyone traveling alone or with a family. Even in Accra's traffic Ishmael maintained great driving while still sharing the history of Ghana.
Our tour guide, Ishmaël, went above and beyond all expectations. We did the Accra City tour. Although some of our expected stops were closed for renovations (OSU castle and Nkrumah memorial), they made up for it; we stopped at the National Museum. Ishmaël is very personable and his communication was excellent; we knew what to expect along the way. He treated us with local drinks and snacks along the way. He entertained our son to make it easy for us to focus on enjoying the tour presentations at times. He went as far as retrieving our son's glasses that he had lost during the day and bring it back to us later on at the hotel. We've had a great experience with him. We'd tour with him again without hesitation.
Sheila M Pabon
2022-07-08
This review is long overdue, but needed to be done. My family and I visited Accra, Ghana this May (2022). We booked the Cape Coast and Elmina Cultural Private Tour that lasted a duration of 9 hrs. We were picked up by our tour guide Ishmael right on time early at 7 am and started our tour. Ishmael is a great storyteller and has a rich knowledge of Ghana. We learned many things including the way in which names (soul or day names) are given among the Akans. Along the way to our main destination stops we stopped at a roadside seller of coconuts, and had a well needed thirst quencher. The tours of both Castle's the Elmina and Cape Coast themselves were nothing less than spectacular, informative and much needed for anyone part of the Diaspora, and not. After the tours of the Castle's we were taken for an inclusive lunch, to a restaurant on a crocodile lake and had a lovely meal. Although we didn't get to see a crocodile, we really enjoyed a well needed lunch at that point surrounded by such serene beauty. After lunch Ishmael took us to the Kakum National Park with the canopy's and we ventured on the hike that was exhausting at that point in our day. The Canopy's were an experience like no other. My family and I enjoyed it besides the part where you are on a rope bridge "canopy" so many feet up high into the air among the trees and some people freak out and get scared about being so high up, and that fear seems to trickle down on to everyone else in line and all you hear as you approach the first canopy bridge is frantic screaming, which can put fear in some who aren't prepared for what is the canopy bridge. If you are afraid of heights, just don't get on! We ended the Kakum Forest Trail after the canopy with some fresh CoCoa pods to taste brought to us by our truly amazing tour guide Ishmael. That was the cherry on the cake! We were nearing the end of our visit to Accra, Ghana and I had yet to taste or even see a Cocoa pod, which I really wanted to experience, so that was very well appreciated. On the drive back to our air bnb, Ishmael stopped at various roadside sites and bought different fruit or authentic Ghanaian homemade snacks and drinks for us to try. It's was a beautiful exit to our journey. I must mention that from the moment our tour experience with Ishmael started until the very end, he even served as a photographer voluntarily and provided us that evening with over 100 photos he had taken of my family and I throughout the tour. Ishmael was nothing less than an all around spectacular tour guide who is punctual, knowledgeable, and friendly, and for my family and I definitely went the extra mile to make our day one of, if not the best while in Accra, Ghana.
Allison Brandmark
2022-06-14
I did the city tour of Accra with Ishmael. It was great! He picked me up right from my hotel and drove me to the sites in the city. He had a rich understanding of the history of Ghana and was a great storyteller. We stopped at many sites, including ones we passed by that I was curious about. We only drove around the market, lighthouse, and castle (the castle is closed) so it was a lot of time in the car visiting different sites. I maybe would've liked to get out and look around. Ishmael was great and picked up local drinks and snacks for me that we talked about. It was great to be with a local! He also took my food considerations into ordering lunch. Overall great experience.
Chumani Ntlale
2021-10-27
Thank you David for a wonderful experience of Accra today. Really enjoyed the informative guide and learnt a whole lot today. Happy to know also that my new name is Kodjoe since I was also born on a Monday.
Browse through videos from our ended tours
Easter Experiential Trip to Ada Aqua Safari.
24 Judges & US Tourists trip to Cape Coast & Elmina
CIMG in Partnership with Kaya Tours Trip to Akosombo
Kaya Tours experiential trip to Kwahu
Experience the Magical Akosombo Destination with Kaya Tours
Travel to South Africa with Kaya Tours
Savannah Tours with Kaya Tours Company Ltd
Educational Tours with Bishop Bowers